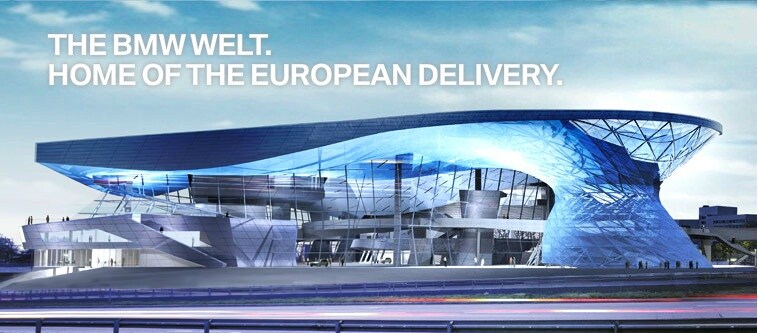 Meet your vehicle in the place where it was made.
Your first drive doesn't have to go from the lot to your driveway. Meet your vehicle at the renowned BMW Welt, enjoy exclusive VIP tours of BMW facilities, take your new vehicle for its first spin across the famed Autobahn, choose from five Driving Adventure packages, indulge at world-class hotels, and then meet your vehicle back home at the end.
Click here to contact us about our European Delivery Program
Learn more about each step of the journey you'll take:

Step 1
Order your BMW, and save

Step 2
Plan your trip

Step 3
Pick up your vehicle at BMW Welt

Step 4
Drive through Europe

Step 5
Meet your vehicle back home
At BMW of Murrieita, your personal Client Advisor will simplify all the details of your European delivery experience. From ordering and insurance to shipping it is all taken care of so you can focus on enjoying your vacation. Our optional Conde Nast Travel Program even offers a selection of exclusive tours designed to maximize your BMW driving vacation. The saving you realize by taking delivery in Europe may just pay for your trip!
To qualify for the BMW European Delivery Program, you must meet the following requirements:
Be at least 18 years of age with a valid driver's license.

Place your order through an authorized BMW center (BMW of Murrieta).
Note: Z4 and X5 models are not eligible for the European Delivery Program because BMW builds these vehicles at its Spartanburg, SC, plant.

You may keep your car in Europe up to 6 months after delivery (there is a 16% penalty tax if your car is not exported within the 6-month period). Cars financed or leased through BMW Financial Services must be exported within 90 days.

Your new BMW is restricted to private use by tourists. Persons working in Europe on temporary or long-term assignments are not eligible for the special customs license plates issued under the European Delivery Program.
Enjoy all of that plus an added financial benefit of costing less than traditional delivery.

European Delivery price includes:
14 days of free, road insurance




Tourist registration




Factory preparation




European inland transportation from the drop-off point to the nearest port




Marine insurance




Customs duty and clearance




U.S. port processing and accessory installation




Wharf and handling fees
Click here to contact us about our European Delivery Program